Lynn's Garden Notes
---
Vegetable Garden
--- 2008 ---
Late February: I cut out more space for the garden. I intended to add a couple rows but that looked so skimpy that I probably added half again as much as I started last year. I have 1/2-yard of compost to work in, and I bought a test kit to assess needs after that. Mom said the issues I was having with blossom wilt may have been from too low a pH.
I am reading Steve Solomon's Growing Vegetables West of the Cascades and I think that may change my to-do list and schedule. So far I have learned something about spacing (timing) crops and I plan to plant less spinach and lettuce at a time but plant several overlapping times. Last year I had big crops that came in at once. I was able to share a lot of it, which is nice, but I wasted a lot too.
Cost of gardening (aka the $50 tomato!)
Dispose of sod, 1/2-yard compost
$28
Soil test kit, wire for building pea vine trellis
$20
3 more rain barrels
$250
onion sets
$4
soaker hose
$15
fertilizer components
$68
tomatoes and (reusable) cages
$11
misc. seeds
$10
Total
$406
Well, some of this stuff will last for more than a season, so maybe I shouldn't even include the rain barrels. They are also used for landscape plants and the cost is offset (by an unknown amount) by not paying for tap water.
Proceeds of garden
3 bunches spinach
$2
peas
$11
yellow squash
$18
lettuce
$5
onion
$4
snap beans
$20
carrots
$9
zucchini
$19
beets
$3
cucumbers
$12
parsnips
$6
tomatoes
$26
winter squash
$4
brussels sprouts
$2
Total
$141
Map of plantings: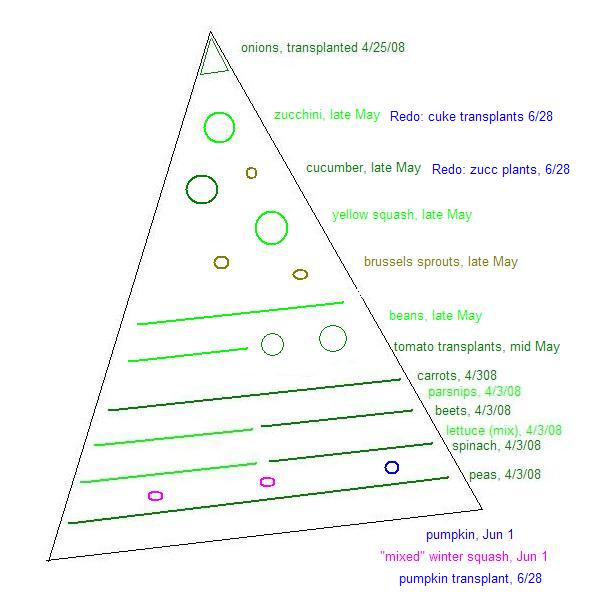 April 26 - Everything is sprouting except the parsnips. It has been colder than normal all month, including snow last weekend, so I will give them a few more warm days before replanting. Next I will have to put into practice Solomon's wordson thinning -- he really has me pegged when he writes about people who just can't bear to pull up a poor, struggling seedling.
The area where the onions are planted has a lot of clay, so I will need to work on that. Actually the whole garden has a fair amount of clay in the soil, but not an unworkable amount.
May 13 - I replanted the lettuce - most were duds or maybe damaged by thinning (?). Replanted some beets and parsnips where they were missing.
Jun 1 - Something is eating all the green lettuce, but I think I will end up with some red lettuce. I decided today that I may not do lettuce any more -- I am out of space and I think I would rather have the spinach. But, I was happier with the lettuce last year so maybe I should just stick with that variety. Although I probably gave away more of it than I ate myself.
Planted beans, a few brussels sprouts and a mound each of zucc, squash, and cukes. Stuck in some pumpkin and winter squash where I hope the peas and spinach will make room. I fertilized all these as I planted. Beans are up nicely and I have thinned them. Sprouts are starting to sprout. Cukes and squashes came up 2 out of 3 so I replanted the missing spots. Peas are starting to bloom but have not done a good job finding the trellis. I thought I was so clever putting it in early, but I think they did better last year when I was late and had to hand-tie the vines up to get them started. But, it has been cooler on average this spring so maybe it's not a fair comparison. Fertilized everything that didn't get some blended in at planting.
June 29 - The good, the bad and the ugly. We have had unusually cold weather, but suddenly it has grown hot. The spinach bolted without really making nice, leafy plants (I think I don't care for the variety), and what I got tasted really bad so I tossed it (I did get a few good plants early on). I'm starting to harvest small peas a few at a time -- Alex was interested in eating them at first but lost it already so I will probably let the rest mature more. Carrots and parsnips look happy. Beets look possibly diseased. Slugs consumed the first round of zuccs and cukes so I started more plants indoors and just set them out the other day. I also started the winter squash and pumpkin that I thought were duds -- the winter squash surprised me by appearing this week. I set out the pumpkin and some "extra" brussels sprouts yesterday too. Onions look pretty good - I think one is about ready but maybe I will pull some dirt up on top -- the Walla Walla onions should get pretty big, and I will want them with tomatoes and squash when they come in. Tomatoes are small but are starting to bloom. My rain barrels are empty, but there is a chance of thunderstorms tonight and showers Thursday. It would not surprise me to see little or no rain from now until September though!
August 13 - Steve Solomon's book is paying off. The garden looks beautiful (except the beets). I have gotten a lot of beans. Tomatoes are putting on a lot of fruit. I am pulling carrots biggest first, to thin them for the rest. I was having some problems with blossom end wilt on the squash, but a search online said that they need more calcium. Added lime and mulched with dead leaves ("browns" or carbons) to consume some nitrogen (which interferes with uptake of calcium). I saw itty bitty cucumbers today. One of the blueberry plants is starting to ripen,and one of the strawberries finally have some fruit too.
latest: September 30 - Garden is winding down, but at least we have gotten some sunny, warm days after a rainy spell and the tomatoes are ripening. Last year I got a lot of romas but no slicing tomatoes. This year is almost the opposite. The slicing tomatoes (forget the variety) are doing well but the romas are slow to ripen, and the ones that are ripe are tangled inside and very low to the ground so the slugs are eating them. (Is that what an "indeterminate form" tomato is?) Zucchini has been a winner, growing very large but remaining sweet and firm, even where the seeds are. Yellow squash was terrific too, but the last one I had was so bitter (raw) that I tossed it. Carrots were spectacular and I will plant at least 2 rows next year. We are enjoying roasted parsnips too; they are a good replacement for French fries but really are not a lot more nutritious than potatoes. There are a few parsnips and beets left, along with brussels sprouts, an acorn squash, another winter squash, and a couple pumpkins. I will leave the zucc, squash, cuke, and tomatoes probably until frost gets them.
Next year:
Start squash, zucchini, winter squash, cucumbers indoor early to protect from slugs.
Use the wire grid like this year's tomato cages for pea trellis.
Stagger planting of snap beans.
Use different spinach variety.
Bury soaker hose? (this is less flexible for moving it around)
Cold frame for tomatoes?
---
--- 2007 ---
I removed turf, dug the soil and worked in a half yard of compost, but was surprised to find that I needed to feed as well. Tomatoes started gang-busters then fizzled out. Same for zucchini. Yellow squash didn't produce much at all before feeding, and seemed to suffer from some blossom end wilt that was very odd. Using standard Miracle Grow, plus their tomato formulation, perked everything up. Peas, spinach and lettuce all produced very well on their own.
| This year (spring) | Next year |
| --- | --- |
| 1/2 yard compost | 1/2 yard compost again, more if room allows. Look for higher quality compost. Maybe mix in some slow-release fertilizer. |
| Full row of spinach and lettuce. | Half rows of each. Maybe more varieties of lettuce. |
| Tomatoes | Feed earlier? Get better cages, as the ones I have flopped over and are being propped up by assorted re-bar and dowels. Allow more space around them for watering and picking. |
| Broccoli plants look nice, but the flowers are long and leggy and don't taste very good. | Keep it in peat pots until later in the season. Either plan to feed it all along, or skip it altogether. |
| Cucumbers haven't produced anything! | Maybe too much in tomato's shadow and competing for water? |
| Peas did great. | Erect supports before planting. Maybe add a second row? |
| Acorn squash and bell pepper were planted after spinach and lettuce finished. | These were planted too late to produce anything before the fall. |
| Lettuce mix, spinach, lettuce (same pack as spring) -- replanted around Sept 1. | Lettuce mix is doing well. Spinach just fair. Lettuce from spring seeds did nothing (maybe sprouted early and I didn't water enough, or it didn't sprout). Could maybe have replanted after first crop finished, thought I had to wait for cooler weather, but this could have been earlier. |
| (new for next year) | Try these: carrots, beets, onions (need to go with the zuccs and squash!), green beans, pumpkins. |
---
Lawn and Plantings
Hired Garners Northwest to rehabilate a worn out lawn. Soil test showed need for lime and some other nutrients. Looks better already. Will add topsoil or top dressing plus over-seeding this fall. So far I'm happy with Garners -- they always do what they say they're going to, and I think the cost is reasonable.
I think the only real mistake I've picked so far was the lupine. It is lovely in the spring when it is growing and blooms, but after that it looks ratty and is an aphid magnet (and not just little aphids, either -- it is fodder for these huge, pale green, super creepy-looking ones. Ick!).
Last year I put in 2 dahlias, one of which never sprouted (the one that did come up didn't bloom). I didn't lift them because our winters are pretty mild, but later I learned that the wet winter can cause rot. Oh well, I wasn't surprised that they didn't show up this spring. Then, after an 10-day cool, rainy period in July, the dud from last year sent up a few leaves. Not sure what to make of that, with respect to lifting them or not this fall, but I do need some summer interest out there!
Month-by-month details
(late) August

We just finished putting in a flagstone ("cowboy coffee" quartzite) patio and we have planted red and wooly thyme in the cracks. The decorative (non-culinary) oregano has been capped with purple blossoms for weeks now. The blooms contrast nicely with the blue-green leaves and I am glad I planted it. The decorative and the culinary marjoram has put up white blossoms, but I would say the culinary has been more showy. There isn't much else of interest right now, but I bought a few small mums I will plant this week.

Sept - Oct

Added patio steps with blue star creeper. Slugs (probably) have eaten all the mum petals. Moved lupine a little south to a spot with less direct sunlight so maybe it won't look so ratty next summer. Added euphorbia (sterile variety), hyssop, autumn joy sedum, indian feather, and orange carpet hummingbird trumpet to the back yard, plus 3 heathers to the front rock steps.

Oct. 1 I bought azalea, strawberry tree, Japanese toad lily, and viburnum for the back, and 2 hellebores to complement the Japanese maple out by the shed. Hope to get that all in the ground soon, along with tulip and crocus bulbs. It's been raining a lot, with more in the forecast.

Had Garner's add topsoil and seed back and front yards (not the side yard along the fence -- is that technically the front yard? -- just in time for rain. Lawns are even to walk on and look good.

February 2008

Bulbs are coming up, crocuses are blooming. Have done a little cleanup of last year's growth. I think everything survived the winter, but the coneflower, hyssop, and indian feather are not showing any growth yet.

Fertilized bay laurel, barberry, fothergilla, strawberries, jasmine, currant, and willow with 4-6-2 (vegetable fertilizer). Used the 4-3-6 (acid-loving) on the blueberries and some older bulbs.

April 2008

Tulips are blooming. Though a bought a color mixture, only the red ones are blooming now and there don't seem to be a lot of buds of other colors. Oh well, not the effect I was going for but it looks nice to have more color in the yard. The tulips out front by the Japanese maple are lagging since they don't get as much sun, but the hellebores there look nice. Viburnum continues to bloom, as does the red currant. I think the fothergilla got zapped by a late frost. The leaf buds look ok, but there will only be about 3-4 flowers. Cherry looks great. The top branch has died so I will see if I can train up a shoot for more height. Toad lily is (maybe) being eaten (by slugs?) as fast as it can grow. Yep, just went out and checked. I guess every gardener should walk around the garden at night occasionally.

Heavily pruned photinia by garage window. Pulled some mulch away from trunk and fertilized. Looks like the azalea that I transplanted there (rescued from beneath the shrubs on the front/side yard) may bloom this year for the first time.

May 2008

The very few white (cream) and pink tulips are starting to bloom. There is actually a nice effect down the left side of the back yard, with the red and a couple cream tulips, the cream blooms of the fothergilla, the red of the barberry and the pale euphorbia. Hellebores look great. One peony has buds. I have been fighting slugs around the Japanese toad lily, but I might have lost....Which just reminded me to make my rounds. I got 2 off the lily but must have stomped 20 on the patio. Ick! Dana gave me a big dahlia tuber and I put it in a blue pot in the back bed. It will be more visible as the tulips die back. I will be putting up pictures at picasaweb.

Jun 1, 2008

I continue to battle slugs. I added 2 straw flowers which have already almost been consumed, along with the cone flower that is trying to sprout. Toad lily has 3 stalks that I think will survive, but that's nothing to how it looked when I bought it last fall. I also added an artemesia, but I think I underestimated the amount of sun it will get.

Tulips are finished and I now realize that until the summer plants get going, my garden is all the same color. Not just lacking flowers, but it's really nearly the same shades of green as well. I may go plant shopping tomorrow! (ok, maybe I just needed an excuse).

The new azalea looks good, and I am happy to say that an azalea that I rescued from the beneath the shrubs on the side of the house has bloomed for the first time since we moved here.

The weeping cherry has an odd pattern of missing leaves. The long branches have bare spots close to the bottom, but they still have tufts of leaves at the tips. I don't know if something has eaten them that way, or if we got a freeze right when those buds were developing.

Strawberries are putting on new growth but no blossoms. Herbs look good. Thyme is blooming - both the culinary and the ones in the patio.

I pinched back the sedum, not sure if I was supposed to but it was flopping over when we had a few hot days. Also pinched the mums and trimmed the enthusiastic marjoram.

Hyssop and Indian feather are definite goners. I think I may try them again, but I will see what strikes my fancy at the nursery.

latest:
Jun 29, 2008

Added Nelly Moser clematis, 2 "butterfly blue" scabiosa, a guara "passionate blush" (replaces the Indian Feather guara, but in a different spot), 2 gray santolinas, and a "burnished bronze" heucherella. They add a lot more color to the garden. The jasmine has put on a lot of growth and looks good, but is not yet blooming -- I think it likes the heat. Lupine looks much better in its shadier spot. Plants that have been in the ground a year or longer are putting on some nice growth. I have been watering a fair amount, but now the rain barrels are empty so I will need to remember that I selected dry-tolerant plants for a reason and let them handle it. The lawn is getting some water from Alex's wading pool that gets used a couple times a week now that it's warm enough.

In bloom: lupine (ending), scabiosa, gaura, thyme (herbs and in the patio), blue star creeper, heucherella, hanging baskets. I need to take some more pictures.

We've seen some hummingbirds, but so far the feeder has only been found by ants. The fountain gets lots of bird visits now that it is drier.
To-do list
spring/summer 2008

Cut edging for mulch (maybe this is better for fall? It didn't get done in '07!). 6/1 - Actually started this, got the west side done.
Re-cut driveway edging and replace cedar chips with drain rock.
Enlarge bed by shed, add bench.
Add lime around hellebores.
Check lawn pH, add lime if needed. Spread compost on lawn (instead of artificial fertilizer). Aerate lawn. 6/1 - leaving this to the lawn guy for now. Yard looks best since we moved in.
Look for bleeding hearts and mahonia, since the nursery was out of that for the fall. Might have a chance to look elsewhere in fall.
Apple tree or grapes for front porch?
Pull mulch from around plant bases. When planting in fall 07, I noticed that the ground under the mulch was much drier than I expected. I think some of the plants aren't growing as well because the summer rains we have had, and watering I did, did not penetrate the ground very well. Do this in conjunction with working in some slow-release fertilizer. done